So you want to quit your day job…
Ok, first thing? Don't.
Not right away, anyway. You've got some serious planning to do first, sugarbritches! It took me nearly a year to get everything ready to go from working in this industry part-time to making it my full-time job and my sole means of income. If this is a choice that you have the luxury of making in advance, make the most of the time you have to make the move as painless as possible.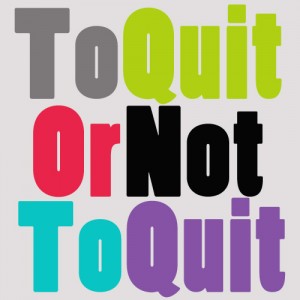 Are you making at least the same amount of money whoring part-time that you are while working full-time at the day job? If the answer is no, stop reading this article and start honing your skills in your chosen field and come back after the answer is yes. When you're getting your footing while moving into being your own boss all the time, you're going to need to take time figuring out a new rhythm, a new schedule, a new well… everything. This could very well eat into your planned "work week" at the beginning and allowing yourself enough time to adjust will save you some serious gray hairs. Especially since there really aren't any guaranteed paychecks in this biz, bogging yourself down with "holy shit I have to whore for 60 hours to make this week's bills." will kill you. KILL YOU. So yes, make sure you are comfortably making your current pay with part-time effort right out of the gate. it will make your transition that much easier. There will be booming times and lean times, be prepared.
Are you prepared to no longer have a mainstream job as an answer when someone asks you what you do for a living? Do you plan on being "out"? To whom? These are questions that you may not have had to think about when this was just a part-time gig but once you are all-in, be prepared to be asked about this "great new job you've started" and you should have an answer ready, (whatever it may be) for people that matter to you. Obviously, not everyone needs to know your business but be prepared to be asked, and be asked often. This is also a good time to remind you that at some point in time you could possibly be recognized or god forbid, outted.
Have a hefty amount in savings put away before you give your notice. I hope you've been saving your whore money while you've been slaving away at your day job because you really never know what adjustments you're going to need to make once you make your ho job your only job. I saved 6 months worth of expenses because my husband had been laid off the year before and that showed me how important a safety net was, especially with a mortgage.
Let's talk health insurance. Because let's be real, this is a giant issue for us all and if you're leaving a job without health insurance, you better have a plan to replace it. Many of us go without, on a hope and a prayer and lord knows that shit ain't smart. (I was lucky enough to only have to wait a few months until open enrollment for my husband's plan through his employer. I know how lucky I was to have had that option.) Paying out of pocket for every last bit of health insurance you'll need can get CRAZY expensive, and hopefully the Affordable Healthcare Act will help lessen some of the burden in the future. Regardless, it's always a good idea to do your research and plan for what decisions you'll need to make.
So yes, if Sex Work is the job you love (or love to hate) and the career path you're choosing, please don't jump in hastily. Plan ahead, save your money and come to terms with whatever social hangups others will have about your profession before making the leap.
It'll serve you well in the long run.
Savannah Darling: Fetish Specialist, Webcam Mistress, Phone Sex Operator, Professional Domina