It's a very rare thought process to wake up one morning and think to yourself "my goal for the next 6 months is to gain 25-50 lbs of pure fat."  Gaining weight isn't looked at fondly by "society."  The thing is, there is an entire population of porn and fetish watchers who are into big women (and men for that matter!), and that population watches a LOT of porn.
Being a BBW/BHM is awesome. As you'll find in any niche porn, once you've got fans, they are fans for life and they are loyal fans. Find what works for you as a BBW/BHM and stick to it. You could stick to the fetish side such as feeder/feedee, domination, or belly play, all of which are extremely popular for BBW/BHM since they feed directly into the larger than life fantasy. Or maybe more on the porn side with straight up hardcore sex. Even as escorts, there is a huge demand for larger than life people, and not a lot of people to fill that demand. I would give the same advice to anyone though—finding your niche is vital and can make or break you.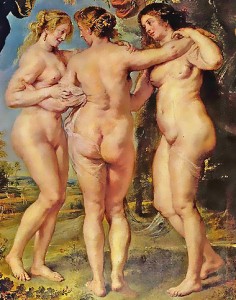 Being a BBW or BHM means that you're going to encounter a lot of ridicule. There is no easy way around that fact. Here's the thing though: the acronym "BBW" and "BHM" are not there to demean you or make you feel ugly. Both use words that are positive reinforcements of your attractiveness. Big beautiful women and big handsome men have just as much insecurity as men and women of average weight. However, the ridicule coming from an anonymous population of people you don't know can be much easier to handle than the ridicule that comes from your biggest enemy: yourself. Looking in the mirror may not be an easy task, but it may be a lot easier than standing on a scale in the morning wishing that you dropped a pound or two. Confidence radiates just as much as insecurity radiates, so learn to conquer your self-loathing. There is something to be said about a person of any size or shape that radiates confidence! When I first started as a cam girl, I weighed 135 at 5'2" and I was 19 years old. Even then, I was "too fat" for the people who liked skinny girls and constantly had people telling me to loose weight. I'm now 24, and at 5'3" I weigh just below 200lbs. The fat comments haven't stopped, but the compliments have increased. One of my favorite ways of dealing with fat comments is to point out that whomever is making them is a real genius at pointing out the obvious. Until my youtube channel got shut down, I had a video I would refer people to, about 30 seconds in length of me saying something along the lines of "Saying that I'm fat is like pointing out that dogs have hair. DUH!" and laughing. I got more positive feedback for that 30 seconds than I've gotten for anything else, and the people calling me fat ate their words as they sat behind their anonymous youtube profile playing keyboard warrior.
As always, be safe. There IS work out there for BBW/BHM and a lot of money to be made. Do your research on the company you're working for, or if you're working for yourself, research BBW porn or fetishism and understand it so you can best cater to it.Don't be afraid of your body—insecurity shows, even on camera. Learn to laugh at the people putting you down and calling you names.
Sydney Screams: Fetish Model, Clip Producer, Adult Actress, Radio Talk Show Host