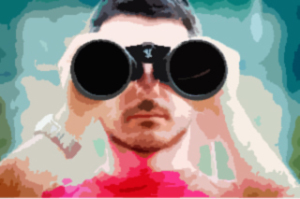 Stalkers suck thats a fact. Its also the most common problem ( besides law enforcement) that escorts have to deal with. In fact most sex workers from strippers to pro Dommes, from cam girls to adult actors will at one point have a brush with a stalker. Sometimes its not a very serious threat and its someone just making small amounts of trouble for attention.  Sometimes it can cost you your life. Its hard to tell which is which so you want to treat all stalkers like its a serious threat and take the appropriate action. You want to avoid stalkers whenever possible and if (when) you are unfortunate enough to have one intrude on your life you want to take appropriate action to minimize their effect on your life.
Some things you can do to help you avoid a stalker.
Never tell a client your real name
This should be a no brainer but its sadly not. Never tell a client your real name. Also never tell anyone you might suspect of not being trustworthy your real name. They might turn around and tell a client. Example: An escort friend of mine was dating a man who used to see escorts. I socialized with them and they both knew my real name.  When they broke up he began harassing me (hello crazy). He knew my real name and used that to his advantage to try and scare me. I'ts best to have a fake real name, something everyone thinks is your real name that isn't. This isn't always possible but keeping the number of people who know you are a sex worker and in turn know your real name is something to strive for.
Clients press sex workers for their real names. It makes them feel special/powerful to be the person you gave your real name too. Don't be tempted. Give them your fake real name, something you can easily remember and that you go to all the time. Make it plain and simple. Pick a name thats very common so if a client wants to Google the name you gave him it returns 500,00 "Maria Garcics" or "Ashley Johnsons" (Protip: pick a fake real name that a minor celebrity already has to increase the Google returns on your fake name)
Disinformation
Don't give out too many personal details about yourself. If you are a current college student don't tell them that. If you are a former college student and you use that in your marketing then never tell anyone the real college you went to. In fact make up a different degree you got. If you were a history major at Rutgers tell clients you were a English major at USC. If you are from the mid-west and have an accent from that region then tell people you are from a neighboring state. Make your answers reasonable but make them fake. Its hard when you spend so much time with clients not to slip up so make a fake history that closely resembles your own history but doesn't give any clues that could lead back to finding the real you.  Give them clues to finding nothing. Disinformation is a sex workers best friend if you're worried about stalkers.
Don't do incall appointments out of your home
This one can be tricky because renting an incall location is expensive but don't be tempted by the cash you can save. Never let a client know where you live and that's impossible if you see them in  your home. It only takes one crazy to make your life a living hell. You also have the added bonus if you encounter the law doing incall out of your home they can confiscate pretty much anything as "evidence". At a hotel or professional dungeon etc you don't have items that can be taken from you, you only have what you bring in. Wanna know how often you get confiscated items back? Not very.
Never let a client walk you to your car
They can and will right down the make model and license number.  That goes for meet and greets too. Don't let people see you get in or out of your car. Though motor vehicles deparments records are supposed to be hard to access, they are a lot more accessible then you think. Park your car around the corner from an outcall, valet the car at a hotel, take public transportation if its possible.
Lock down your social media
Social media is all the rage but how much of it do you really need as a sex worker. Figure that out. Use what works for you and disregard the rest. Do you really need a hooker Pinterest, Instagram and Twitter? If you use Twitter in your regular life don't have a hooker twitter, its too easy to make a mistake and accidentally tweet on the wrong stream. Facebook is its own animal they use facial recognition software and well display your hooker Facebook to your non hooker friends " Do you know inset hooker name here" Facebook's TOS and privacy change so often that its really not worth having it.
If you have non work related social media, lock it down. Make your Twitter private. Make sure your Facebook is private and all the information along with it (what groups you're in, who your friends are etc) Do not use a picture of your face as the icon. Don't use posted pictures across social media. Example don't post the same picture of your cute dog in your hooker Twitter stream and on your personal Facebook. Also turn off your geo-location… on everything!
Those are a few things you can do to avoid being in a position to be stalked in the first place. However if a stalker takes an interest in you, how you react to him is critical. Sometimes a stalker just wants you feel scared and they will threaten to out you. To family, friends, co-workers, the IRS. Sometimes they threaten and are intent on actual harm. If at anytime you feel physically threatened then its imperative you call the authorities ASAP.
Do not engage
This is hard because you will want to tell them to fuck off but do not engage them. Do not give them attention, delete ignore, delete ignore is your mantra. Do not give them any attention, nothing, nada, zip. Stalkers want your attention. They want to scare you, they want to know they are having an effect on you, some want to hurt you. They often escalate if you give them attention. They can get emboldened with even the slightest drop of attention. That's not to say they wont escalate if you ignore them they may but often a casual stalker, someone who just wants to cause you some trouble will move on if he doesn't get the rise out of you he wants.
Document
Screen shots, saved emails, saved letters, if the harassment has already intruded on your life beyond online into the physical then keep a diary/journal if everything thats happening no matter how insignificant it is. Remember to date and time everything. Be diligent.
Investigate:
Who could be stalking you? figure it out. Narrow it down. If you did appointments out of your house and you get threats sent to you in the mail make a list of who knows your address. If its someone who references something you said on twitter/facebook and your work twitter/facebook is private make a list of who it could be. Cross references the lists. Often stalkers will give themselves away in the details. Pay attention to them. You can often figure out who's stalking you and that will help you asses how serious the threat is.
Move: 
If you are being harassed where you live then it might be time to move. That sucks i know but your safey is important. If you did incall out of your home and you are being stalked then its time to move out of there. Get a PO box if you move and have all your mail forwarded there not to the new address. Stalkers can be clever, I heard of one who had their victims mail re-routed to their address. For reals. Keep your new location secret. Don't tweet what city you live in, don't put your city on your Facebook.
Report to the authorities
Stalking is crime and many cities have anti-stalking laws already on the books. Yours might or it might not but its still a crime and if you are being physically threatened then you need to report this. This will be hard because often LE will not look favorably on you and will try to dismiss you out of hand. Be persistent. Take a friend with you, someone who can advocate for you if you need it. Someone to give you moral support as you tell the police about your stalking. The trick here is you MUST be honest with them. You have to let them know you are a sex worker. This too will not be easy. You may be judged.. harshly. However your safety matters and you must take all steps to protect yourself. Where I live theres a well known officer of the law that actually works with sex workers on these types of issues. There might be one in your city as well. You will want to bring all your documentation with you. If you have figured out who your stalker is then you will want to investigate getting a TRO (temporary restraining order) You will need documentation for this as well, you will need to appear credible. Speak clearly to the officer/judge. Wear a business suit and look professional. Don't give them any excuse to dismiss you and not take your issue seriously. Because it is serious.
Resources:
http://www.victimsofcrime.org/our-programs/stalking-resource-center
http://www.stalkinghelpline.org/
http://www.novabucks.org/otherinformation/stalking/
http://www.womenshealth.gov/violence-against-women/types-of-violence/stalking.html
I have been stalked/harassed both as an escort and in my regular life. As much as it caused me emotional distress, I was fortunate enough that my stalker(s) only wished to cause me trouble and it never went further then that. If you are stalked be prepared to be outed. Often this threat is what the stalker uses to harass you. Know that this could happen and prepare yourself for your friends and family knowing about your profession if they don't already. Prepare yourself that this could go further and at some point you may have to report this stalking. Take all threats seriously. Do whatever you need to do to protect yourself that includes setting yourself up not to be stalked in the first place.
Jenny DeMilo: Dominatrix, Hypno-Domme and former GFE Escort

Follow Jenny DeMilo on Twitter