I thought having a series of posts on how to get yourself ready to film clips or for camming would be fun since these are things I'm always thinking about. What to wear, how to do my makeup, props, etc. I think I may have tried it all so hopefully the shortcuts I've learned can make your day a little easier!
So let's talk Whore Paint, shall we?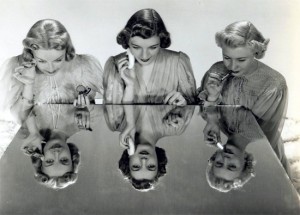 Makeup for the camera can be quite different than your everyday routine. I know for me, when I do my regular makeup where I'll be seeing people face-to-face, I aim for subtle and try to go for the fresh-faced look. But when I'm filming or going on cam? Completely different. The main reason is, no matter how good of a camera you have or how fantastic your HD recording is, it takes SO much more for your makeup look to "pop" and translate to video. BUT just because it takes a little more effort to look "made up" on camera, doesn't necessarily mean you need to actually *apply* more. Through trial and error (LOTS of error) I've figured out how to look done up without completely covering myself head to toe in face paint by utilizing a few tricks.
Don't pile it on. Use the least amount of product with the most amount of impact. This means using better quality, higher pigmented products so you can use less of it and be less susceptible to having it run or smear while you work. Plus, less makeup = less clogged pores and easier to remove at the end of the night. Higher quality doesn't need to mean expensive though (stay tuned for a post on some awesome products for less!) and you can find most of the good stuff right at your drug store. Seriously!
Moisturize and prime! A good moisturizer will change your life, followed by a good face primer. Together, they'll give you an awesome canvas to work with as well as help keep what you put on, where you put it. Just please remember to give both of these products time to set up in between applications. Wait at least 5 minutes after applying moisturizer (longer if you can stand it) before applying primer and then wait again at least 5 minutes after applying primer before starting your make up. I usually do these steps while I'm doing my hair so it doesn't feel like forever while I'm waiting. That and because I have no patience whatsoever.
Foundation or no? I personally do NOT wear foundation when I work because I have really sensitive skin (read: break-out prone) and I want to minimize the layers of products on my face. I prefer to use a really good concealer to highlight areas that need it and a matter bronzer powder to shade or contour other areas. A good concealer that matches your skin tone can help hide any imperfections without covering your entire face with it like you normally would with foundation.
Waterproof and Long-wearing? YES! I know it's a no-brainer but raccoon-eyes are not the business so invest in a good, waterproof set of products. Waterproof mascara, eyeliner and lipstick will make your life so much easier. I mean, who wants to re-do their whole face halfway through their cam shift? Not this girl. Plus, there's nothing worse than getting red lipstick all over yourself after a particularly hot scene. I once filmed a breast worship video in a bright yellow bathing suit and in playback I realized that I must have touched my lips at some point and got red smudges all over my tits and bikini top. Definitely changed the marketing description for that video, that's for sure.
Lashes. Like everything else, this is a personal choice. I really love to wear them if I have the time to apply them. I feel like if I wear lashes, I don't have to wear a ton of mascara to get the look I want especially since many times, too much mascara = flaking, which sucks. Plus, on cam, with the right pair, it just looks like you have really lovely eyes. It's not super obvious that you're wearing false eyelashes like it tends to be when in-person. So like I said, personal choice on whether to wear them or not but I think they look lovely when done right and if you have the time for them.
I hope some of these tips help you with a place to start or maybe build on the routines you already have in place. I know that makeup and skincare go hand in hand so next time I'll be talking about how to keep your skin looking fantastic after all these days of wearing makeup! (Lord knows I've done it wrong enough times to write a book! ha!)
What kinds of makeup tricks have made your life easier when you're in from of the camera? We'd love to hear all about them in the comments!
Savannah Darling: Fetish Specialist, Webcam Mistress, Phone Sex Operator, Professional Domina