a.k.a, When and How to Help a Fellow Whore and When to Politely Decline.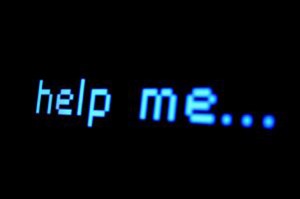 Now as you know, we over here at Fairy Whore Mother thought there was a severe lack in resources for sex workers in the realm of "How-To" (or in some cases, "How-NOT-To").  So, being that 'necessity is the mother of invention' and all that happy horseshit, add in the fact that we like helping and love our community and VOILA!, you have the awesomeness that is FWM. We also like seeing others reaching out to help one another survive in this crazy business. It really warms our cold, black little hearts. Many sex workers get solicited for advice on how to get into the biz, how to make more money while IN the biz, how to use a new platform/software/website, how to transition into a new sector of the biz… and so on and so forth. If you've been in this business for any amount of time at all, I'm sure you've been asked any or all of those questions a time or two. (If you haven't, give it a little time, I'm sure it's coming.) Giving a little help to a fellow ho (if you want to) can feel really fucking awesome BUT it can also be a big responsibility. Here's a few things to ask yourself before becoming someone's Patron Saint of Whoring.
What are your intentions?
Please don't offer your help to a colleague if you're only looking to make money off them. If you are starting a legit consulting business, congratulations, go for it. Be upfront about your pricing and do your thing, sugar! But if you're not and you're only willing to help others because getting them to sign up with the cam/phone/booty shaking company you work with solely because it gets you a referral bonus? Do us all a favor and don't. That makes you look pretty damn shady. I've recommended the camming platform and clips sites I use because I've had good experiences with them and am comfortable suggesting them to others. Referrals are great and you shouldn't feel guilty for getting them but really, in my opinion it's not that important and I've never done the whole "be sure to tell them I sent you… blah blah blah…" spiel.
Be honest.
If someone has come to you for guidance and you're inclined to give it, be truthful. I've shared my experiences when asked for them and I always try to give real, honest answers. Inflating my own success isn't going to help anyone earn a proper paycheck if I'm really trying to help someone. Don't lie about how much you make or how successful you are to someone who is seeking out your help. If you are friendly enough with this person to share something as intimate as your income, be a decent human and be honest. If you're not comfortable sharing it, don't. You're not a bad person if that information feels too personal or intimate to give out and you shouldn't feel guilty for saying so.
Do you know what you're talking about?
Please be honest with yourself about your own expertise. If you don't have enough insight to help another, don't feel bad in simply saying so. In my experience, people have a really fucking hard time simply saying "I don't know." and give whatever dumbass convoluted mashup of wrong information that comes to their minds. There's no shame in saying, "Sorry, I really am still figuring it all out for myself and may not be the best to help you get started." You can direct them to someone you think may be better equipped and that is perfectly ok.
Are you willing to tell them ALL they need to know?
If you're going to give them a little "starter advice" and then give them the sink-or-swim treatment, don't even bother. Because honestly? You can do way more harm than good. If you're going to take the responsibility of being someone's "mentor", you better give them ALL the pertinent details of the work. ESPECIALLY regarding safety tips and privacy concerns. I once listened in horror when I was told a cautionary tale about a provider getting a woman into escorting and then giving her NO advice on screening or privacy. Later, this newbie was outted to her family due to poor discretion practices that could have easily been avoided if she had gotten ANY advice on those things from her so-called "mentor". Yes, it was the newbie's responsibility to do her research on how to protect herself but she trusted this escort whom she thought was her friend and relied solely on her as she began her escorting career.
So if you decide you'd like to help someone the next time they ask for your assistance in this industry, do it with good intentions, be honest with yourself and them, and give them the full picture. You don't need to write their whole damn business plan but do give them all the pertinent details; especially the information they'll need begin successfully and safely.
Do you have any tips? I'd love to hear them in the comments!
Savannah Darling: Fetish Specialist, Webcam Mistress, Phone Sex Operator, Professional Domina