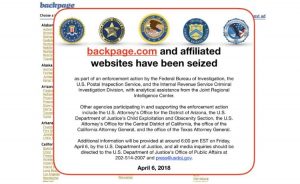 Backpage was seized by the feds, this is different from when Backpage themselves  took down the erotic services section (ads migrated to the personals section). This time the site was seized by the FBI. For several days the indictment was sealed but it finally was made public and as predicted by many sex workers and their advocates, it contains NO charges related to human trafficking and once again targets the owners of Backpage with facilitating prostitution, money laundering, etc. This is pretty much what happened last time and these charges were thrown out by a judge. I would expect that this will happen again but you never know cuz it looks like the feds are playing judge roulette and are hoping that one of their harassment adventures will stick with a friendly judge.
You can read the indictment here: https://drive.google.com/viewerng/viewer?url=http://archive.azcentral.com/persistent/icimages/news/backpage%2520indictment.compressed.pdf
None of that of course is comforting to any sex workers who relied on Backpage for their livelihood which are often the most venerable among us. Just because Backpage disappeared doesn't mean you can't make a living. You will have to be clever and re-think your marketing strategies. Lots of things are changing right now and because of SESTA and FOSTA they are changing quickly and daily. No one really knows whats going to change next and how people are going to react. Its a good time to take some steps to protect yourself, your business and your livelihood.
Australian Sex Workers a new site advertising site when up to help fill the void of the disappearing Backpage http://crockor.com.au/
4 Things to try when your ad venue disappears: https://fairywhoremother.com/4-things-you-can-do-when-your-advertising-venue-disappears/
Consider hosting off shore in case American hosting companies decide to no longer host sex worker sites: https://redumbrella.ch/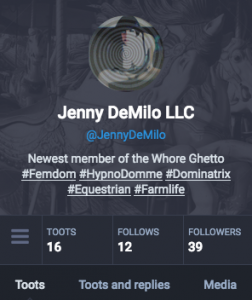 A Mastodon Instance popped up AKA a twitter like sex work social media that it might be worth joining if only to next work with other Sex Workers so you can stay current on new options and info. I'm not sure its gonna be a great place to find clients but its worth having a profile up and to see what it evolves into.
https://switter.at/web/getting-started
You can follow me there under my name #JennyDeMIlo
Switter has  added a "listings" feature  to ry to fill the void of the Backpage seizure where you can post availability: https://listings.switter.at/
It's a tough time and with SESTA set to be signed today its gonna be a dark day for a lot of sex workers. Be kind to them.
Jenny DeMilo: Dominatrix, Hypno-Domme and former GFE Escort