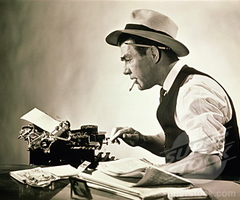 Escort reviews are tricky business. Some hate them, some love them some just want to ignore the fact that they exist. The decision to allow yourself to be reviewed is a personal one. Some people swear by them and all that being involved in the review website culture offers. Others swear they don't do anything to help their business and hate them, flat out. Others refuse to participate at all and ignore how they impact the industry as a whole. Reviews are personal and the opinions on them are about as diverse as stars in the sky. That's a lot of fucking diversity. If you are an escort that allows reviews you will inevitably come up against a not so glowing review or worse a complete fake one. It happens and it will happen to you eventually if you stick around the business long enough. Here are a couple of things to help you keep your sanity when one of those two things happen.
1. Its only one persons opinion
This is a fact, a review is just one persons opinion about an event in which the reviewer was a active participant. If the experience was bland or not as thrilling as the client wanted well he was there too. Lots of times clients have unrealistic expectations about what an encounter will be. They've spent a long time building up in their head and saving their pennies and forget that they are there to participate and would like to hold the escort responsible as if shes the only one involved in the encounter.  Some sadly are just giant assholes. We cant be all things to all people, we can only do the best job we can when meeting with clients. One mediocre review isn't going to change anything! Seriously it's not! Hell I know ladies with many not so favorable reviews that do just fine and don't let the criticism affect them. It just rolls off  their backs like water off a duck. Just remember to tell yourself that you did your best to meet that clients needs and move on and focus on other things that do mater.
2. Fake reviews happen try to minimize how you react to it
You got a fake review, it happens to the best of us! Sometimes fake reviews are good an sometimes they are bad. In any event no one likes it when people make stuff up about them. You have several options after getting a fake review. You can message the poster and ask him if hes mixed you up with someone else. Be nice and try to keep your cool, don't blast him for being the dirt bag he is. Give him a reason to remove it all on his own. I find sweetness and guilt can work wonders. Some review websites will work with you if you believe a review to be fake. Give them the info they need to take it down. If your tour schedule shows you are in Idaho when this guy from Rhode Island posted your fake review you might be able to get the site to remove it all on their own. If you are connected enough ask a third party  respected by both sides of the equation to mediate the dispute. It doesn't always work but sometimes, just sometimes it does. If all else fails just forget the fake review is there. You think all those reviews on Yelp are real? They're not and the more that the world gets involved with review culture ( yes, I just did say that) the less impact any reviews of any business or service has.
Jenny DeMilo: Dominatrix, former GFE Escort, Fetish Clip Producer and Hypno-Domme