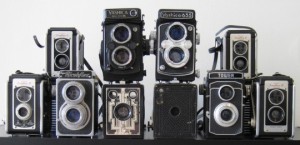 Choosing a camera for work is no walk in the park. You have a lot of options out there to choose from, all of which will have positive and negative aspects. Cheap is very appealing, hence the popularity of the wave of handheld cameras similar to the FlipCam, but the quality of these cameras is low. These cameras are fine to start off with, but be warned: you'll be upgrading within 6 months to a year. If you can afford to do so, hold off until you have more money saved so that you can get a better quality camera. If you need a camera that is great for both photos and videos, a point and shoot is good option, although not your best investment option. A good point and shoot will run anywhere between $200-500. The microphones on point and shoots are generally awkwardly placed where you will more than likely cover them up if someone is holding the camera for you. The sensor is not as good (or large) which means even on HD settings, videos will come out grainy if lighting isn't perfect. The plus side of point and shoot cameras is that many are now water proof, drop proof, crush proof, etc, so if you're like me and want to record yourself in the shower, you can do that without having to be super careful! Or you can film giantess clips and jump on your camera without worrying about breaking it. Canon's Powershot D20, Olympus TG 820 iHS, and Sony Cyber-shot DSC-TX20 are all waterproof and shoot 1080p HD, and all run around $300-350.
When looking for a camera for both photos and videos, getting a DSLR is your best investment. Both Canon and Nikon make great beginner line cameras that take 1080p HD video as well as good quality images (as long as you have good lighting!). The problem with the lower end Nikon cameras is when shooting at 1080p, the camera will automatically stop shooting at the 5 minute mark. The other problem with DSLRs is that you should expect to dish out at least $700- 1000 for a kit (both camera and lens) plus the cost of SD cards (you'll need either 32 or 64 GB ones if you're shooting 1080p HD), an additional battery, and a carrying case. You can find bundles on both Amazon and Ebay, but make sure you're buying from a verified seller! You can find used DSLRs, but be sure you're getting one with video capabilities! Not all DSLRs have that capability. If you don't know how to use a DSLR, expect to get one from Canon's Rebel line (such as the EOS Rebel T2i) or Nikon's D3200 or D5100. These offer fully automatic and fully manual modes and are considered the most affordable and user friendly. With a DSLR, you will want to get a microphone that you can slip into the hot shoe, as the microphone on the DSLR is mediocre at best. Luckily microphones aren't expensive and some bundles even come with them now! A DSLR is great if you're running your own site that requires the need for both photos and videos. Remember that photos make for great teasers or advertisements! When shopping for used equipment, check out Canon's or Nikon's Refurbished Store or B&H's online used store.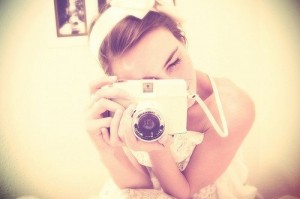 If you want a video camera that is strictly for video, there are a few things you want to make sure you get. 1-a threaded lens (so you can add wide angle or zoom filters. Look for "filter diameter" when you're looking at the specs), 2-a hot shoe (so you can have an on camera light or on camera microphone), 3-multiple SD card slots OR internal memory PLUS an SD slot (in case you run out of space on one, it will automatically switch to the second one without skipping a beat), and 4-the ability to use different size batteries (ie, no battery slot cover). When it comes to a strictly video camera, Sony and Canon are the leading companies, although I personally recommend avoiding Sony as once you start using Sony you are stuck with their products (their video cameras do not use standard memory cards, instead a Sony only memory card that cannot be used on non-Sony products). A video camera can be much cheaper than getting a DSLR, but again, you have to worry about quality and the lower end ones don't always have the threads on the front. I cannot stress the importance of those threads on the front—most video cameras don't zoom out far enough to accommodate the average size 12'x12' bedroom. A wide angle lens then becomes a must so that you can fit yourself into frame properly! Canon's Vixia HF M500 has allows for SD and SDXC cards, lets you choose which format you record in and runs only $550. If you can really afford to splurge, Canon's Vixia HF G10 goes above and beyond with manual modes (both exposure and focus), has internal memory plus allows for dual SD or SDXC cards, allows for a larger battery for longer run time, and is my personal video camera wet dream (can I point you to my Amazon wishlist right about now??). It runs $1300, but is well worth it based on the quality you'll get.
When you're shopping for any camera, I always recommend going into a camera store or electronics store to hold them. See what feels best in your hand, see which ones have the easiest controls for YOU to figure out. I've been using cameras pretty much since I could walk, so what works for me may not work for you. See how the picture quality looks in the store lighting conditions. Double check to make sure the front of the camera has threads so that you can screw on a wide angle lens. Whatever you do, DO NOT BUY IN STORE unless you're getting a really great package. Have an idea of 4 or 5 cameras you'd like to look at when you go in, and know what they're going for on Amazon, eBay and B&H with or without a bundle (SD cards, an additional battery, case, tripod, etc). If, in the off chance, the store you're at can offer you the same price with the same bundle, by all means, go ahead and buy, but generally speaking, you're going to get a better deal online. Remember that stores generally only carry the latest models, but going back a generation or two will save you anywhere from $50-200. Before you buy a camera, be sure to check out the reviews online, specifically dpreviews.com for any "photo" cameras (DSLRs or point & shoots only) where you can do a side by side comparison of specs and features.
Sydney Screams: Fetish Model, Clip Producer, Adult Actress, Radio Talk Show Host