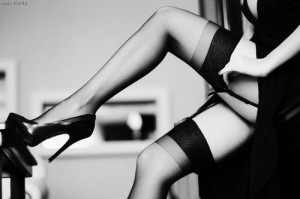 So you're thinking about getting into sex work and working as a Pro-Domme? You've always been interested or rather fascinated  in the  mysterious and alluring fetish world and have spent more then a few evenings in your local fetish and goth clubs checking everything out and you know you'd just be great at Dominating men for fat stacks of easy money. It's not as easy as you think and many hopefuls have gotten nowhere fast by not thinking it through. Here are somethings to remember if you think being a Dominatrix is in your future.
1.  Have skill
Being a Domme is more then just looking good in latex, you need to have actual skill. Take a mental inventory of your abilities and be honest. It's best not to offer strict shabari bondage or suspension if you don't know what the fuck you are doing. If you are great at trash talking then maybe mental domination is your thing, if you have amazing flexible feet then think about foot fetish, if you have experience in OTK spanking then do that. Remember the goal might be to cause pain or discomfort but you never want to cause harm. If you don't feel you have fetish skills in your arsenal to hang out a shingle then its time to invest in some classes, they exist!
2. Look good
One of the big turn on for clients is the look of the Dominatrix he's seeing. It doesn't mean you have to have a perfect body, or a 50K wardrobe but you should be pulled together ad have a few things to wear in sessions that make you look amazing and intimidating. Maybe your speciality is OTK spanking then you might want to cultivate a 1950's  headmistress look, think about what your offering and think about how that should translate into your Dominatrix persona.
3.  Getting the client off
Lets just admit it, clients go see a Domme because it turns them on. What ever their predilection is it's because they get a sexual charge out of it and they want to get off to whatever that is. Now how this happens is totally up to you and you should know your boundaries going into it. Most clients jerk themselves off towards the end of the session at the direction of the Domme.  Some Dommes offer strap on services (fucking your client in the ass with a dildo, yeah that is prostitution) I know you heard  that being a Dominatrix meant no sex and you've read all the hundreds of disclaimers on many a Dommes website saying they are not prostitutes.  Though I do know of a Domme or two who will actually fuck their clients most don't offer intercourse, many never even take their shinny latex clothes off.   Almost all allow their clients to get off in one way or another because seeing a dominatrix is a sexual experience. It's up to you to chose how far your willing to go. Remember to protect yourself if you decide to offer more sexually based services. Person to person contact will almost always put you in the same realm as escorts by law enforcement and you need to take precautions
Jenny DeMilo: Dominatrix, former GFE Escort, Fetish Clip Producer and Hypno-Domme