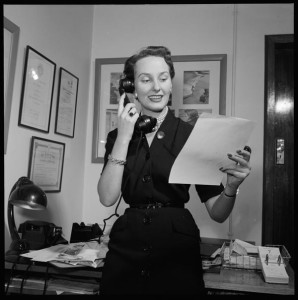 Hi! Sarah (of SarahDoesPhoneSex.com) here and for my inaugural post here on Fairy Whore Mother, I want to share a fabulous tool that was recommended to me (by @MissEmmaMcG of KinkandCode.com) that has made Client-On-Cam sessions a freaking breeze. More on this in a bit. As a Phone Sex Operator (PSO) working primarily on platforms (like Niteflirt, TalkToMe, etc.), I don't offer WebCam as a service. However, if I did, honestly I think I'd use a site that had the functionality to handle the whole transaction within the web browser itself, as opposed to having to utilize third party services (like Skype or various IM programs) to connect with the Client. And there are a variety of points I'd bring up about that, but I'm trying to keep this positive and not get distracted with too many side rants, so I'll save that whole can of beans for another day.
But the thing that really bugs me about offering WebCam sessions (through phone sex platforms) is that without fail, they're a huge pain in the ass to pull off. I use Skype to take my PSO calls. I did that on purpose. One of my goals in becoming a full time PSO is that eventually I'll be able to do it from anywhere (as long as I have a good internet connection). So using Skype to watch a client's webcam doesn't work for me. And I refuse to download a bunch of IM programs. Yahoo? AIM? ICQ? I'm sorry, is 1999 calling? No.
And I realize that not using the tech old guys are comfortable with is probably hurting my business potential a bit. But I'm OK with that. Know why? Because of the inevitable threads I see on forums complaining about how clients abuse the fuck out of it. Selling that Skype ID for a few bucks may seem like a good idea now, but just wait till you're getting endless messages asking if you'll take Paypal or messaging you while you're in the middle of a session with another client. And heaven help you if you have multiple characters to juggle.
Ever since settling on that little internal policy for how I run my business, if someone expresses interest in having me watch them on webcam. I offered Google Hangouts as my solution. Obviously this has it's own trials and tribulations (they have to have a Gmail account or make one for naughty porn purposes, they have to be relatively tech savvy, etc.). And while I'll admit I'm a pretty big Google fan girl, their user experience isn't without t's own issues either. But it made do. That is until I found about about Room.co.
OK, now pause, cause we need to get this little cautionary blurb out of the way. Room has a Terms of Service that clearly states that using their site for commercial and/or adult entertainment purposes is not kosher. *gasp* *shock* *feigned surprise* But seriously what modern tools are we in the adult entertainment industry allowed to use without violating the hell out all kinds of legalese? So use it at your own risk. And when it becomes a for pay service, please remember to support it with your cash (note: I'm not in any way affiliated with the site, so no agenda here) to help influence legit companies to embrace sextech as an under served customer base starving for innovation.
Now for the fun stuff. Why do I love this site so much?
No Downloads: Everything happens in the browser.
No Signup For Client: They don't have to signup for anything. All they do is click the link you send them for the room and they get transported into the video call under a silly automatically generated anonymous moniker.
Tech Agnostic: Works on Google Chrome, Mozilla Firefox, and Apple (iPhone & iPad). That way everyone gets to play in their preferred tech playground. I also really love that they didn't cater to Apple users to the determent of Android users (as so many developers do).
Intuitive User Interface: Simple by design. It doesn't try and reinvent the wheel. The designers have embraced the conventions we've all been trained to look for through past internet experience to be able to very quickly navigate the various functions available.
Rename & Save Rooms: Have a repeat client? Make them their very own room and save the URL as a bookmark. Now you never ever have to worry about if they have the right URL or not (I'm looking at you Google Hangouts).
Text Chat: More than just a video conference / webcam tool, you can also type back and forth and share URLs with each other… privately.
Screen Share: Ever had a client that likes to watch porn with you? This makes it a cake walk.
Up To 4 People: I haven't done this yet, but the thought has crossed my mind that this would be a way to do a session with a client that wanted to play with multiple entertainers at the same time or maybe play with 2 clients at the same time (long distance couples?). Not sure how often this feature would get used, but the option is there, and I like that.
Oh, and did I mention, it's FREE!
Thanks for reading. I hope this will help take your sexwork business to the next level. Did you try out Room? What did you think? What did your Client think? Share your thoughts with me and the rest of the Fairy Whore Mother gang on Twitter (@FWMother & @SarahDoesPhSex).
Sarah Does Phone Sex, is a phone sex operator. You can find Sarah on Twitter, read her blog or even give her a call.