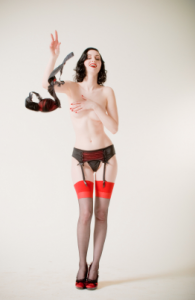 What should one wear to shoot porn or fetish smut in? I'll give you a hint: it isn't black (or busy patterns). Why not black? Well, the truth of the matter is people aren't buying your porn or fetish smut for the artist value or breathtaking cinematography. Your videos (or cam shows) are purchased for the simple fact that someone out there wants to fap or schlick to you. They want to see your body!! You only have a small gif, preview or thumbnail to catch their attention, and you want to stand out. Bright colors draw people in, as well as making it easier to see your body. Black does hide flaws and make your body appear more slender, which is great when you're going to a job interview or out on a date, but when someone is watching you online, they want to see you, and every inch, curve, scar, or tattoo that you have. The way black is picked up on camera makes it very hard to see curves, which in turn makes it hard for your client to appreciate every aspect of you. Even with clients seeking domination, they want to see your body. You can be dominant and kinky in any color; black and red aren't a required uniform. Your personality should be dominant enough to make it so you can do your job in the brightest of colors.
As with every rule, there are exceptions. There are a few wardrobe staples that you need to own in black (depending on what you're doing, exactly):
High heels
Pencil Skirt
Bra & Panty set
Gloves
Shiny/metallic/glittery black anything (the light hits it differently than a flat black and makes seeing your body easier!!)
Black pantyhose or stockings
If you ever pay attention to anything on TV, you'll rarely see actors wearing black except for formal occasions or work. Start to pay attention how their figures look when they wear black as opposed to a bright color (red, blue, green, whatever). You get a better idea of what someone's body type is when they wear colors, which is exactly what you want to give your buyers.
Sydney Screams: Fetish Model, Clip Producer, Adult Actress, Radio Talk Show Host