I'm here to deliver some bad news: if you're an independent escort who writes her own web copy, there's a good chance someone else is going to steal it. The higher your visibility, i.e. the more you advertise, the better odds are of this happening, and of happening more than once. (I've even had wannabe straight gigolos steal my content!) Short of going completely UTR and hoping no thieves find you, what options do you have to deal with plagiarism?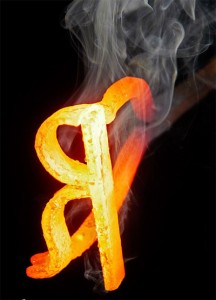 First, give yourself permission to protect your work. I hate confrontation, so even though nothing makes me angrier than being ripped off, I dread that reply email from the person I'm calling out. Steel your nerves by reminding yourself that you're a professional, you created something original—and valuable—in the service of promoting your business, and someone else stole it for their own gain. This is not okay and it's not harmless regardless of how green or ditzy the girl (or guy) who stole from you may be. You can get moral support from friends before taking action if you're feeling a little unsure, and if they're fellow working girls, they'd probably appreciate a heads up anyway about who among us isn't as ethical as she should be. (I also derive a lot of encouragement from this comprehensive Amanda Brooks post capturing all the agony of having to deal with content thieves.) http://www.texasgoldengirl.com/afterhours/escort-plagarism/#more-954
Second, give the thief an easy way out. It pains me to admit it, but this is definitely a situation where you'll get better results by swallowing your righteous anger and trying to sound sweet regardless of how furious you feel. Few people respond with grace when they're caught doing something so obviously wrong, so whatever you do, don't expect an apology or admission of guilt. Clench your teeth and type out something along the lines of "Dear Tiffanie, your pictures are simply adorable and you seem like a great girl but I noticed that you've inadvertently repeated some of the text I wrote for my own site. Can you please have your webmaster take down the following sections?" It's a really good idea to let your first draft sit for at least a day so you can try to smooth out any lingering bitterness that's come through.
Go ahead and let the culprit blame the copying on a web designer or a well-meaning client or a boyfriend, or her own crazy memory that allows her to mistake entire sentences of other people's writing for her own. She'll save face and you get what you want—hopefully.
Some friends of mine have offered to help the offender write her own text, or flat out ghost write it for her for free, which is something I would never be able to bring myself to do. However, I respect that approach for its generosity and you may have some luck with it. One of my friends explained this approach by saying, "I knew she'd never take me up on it," but I'm not so sure about that. Definitely don't offer this if you aren't willing to follow through or she'll probably feel justified in defaulting back to using yours.
Third, make it harder for people to steal from you. If you don't care for visibly watermarking your images, you can use a digital watermark. Have your website designer code your pages so that it's not possible to highlight and copy text. Thieves are by definition lazy, so this will have an impact right away, though on sites like Eros and Cityvibe they will still be able to lift your words.
Fourth, stay alert. Use services like Copyscape (http://copyscape.com) or set up google alerts on some of your more distinctive phrases. DMCA is really the best place to register with because it holds the most sway with hosts, and has the best luck of getting a site taken offline or modified when your entreaties to the escort herself (or himself) have gone unrewarded. (You can learn a little more about DMCA here, http://brainz.org/dmca-takedown-101/ You can also google pieces of your text now and then—lots of girls do this—and see what turns up. As you develop a place in the community, other escorts will let you know when they see your work on someone else's page. Respond to it! Go back and read the first rule if you start feeling fatigued by all the policing you have to do.
Fifth, recognize when it's time for no more Ms. Nice Escort. I use a copyright consultant to keep an eye on all of my content because I believe it needs to be done but I don't want to have to do it myself. Instead of emailing someone directly now, I usually just ask him to send a DMCA notice to their host. This costs extra money but it's worth it to me. I don't have any more patience or energy to spare on arguing with someone who's stolen from me, so I just go straight to the big guns whenever possible.
Sixth, recognize when it's time to let it go. Some offenders will have been lucky enough to set up shop with a belligerent or lackadaisical host who won't respond to your notices, or she may have tweaked your own paragraphs just enough to claim that it's all a big coincidence (even if you and I and everyone else with a brain can see differently.) People who take short cuts are not destined for much success. Rest easy in the fact that they won't be able to deliver in person what your scintillating, personalized prose promised.
Or, depending on what exactly they've stolen, you might take a different view entirely. A few lines I wrote about welcoming clients with disability have been stolen verbatim so many times over the years that it's practically become standard industry practice to include it on a site or ad. And that's okay. Those little bits related to protocol aren't what distinguishes your personality, anyway.
Keep in mind through all of this that no matter how frustrated you may be by the plagiarism, you've got an ace up your sleeve that the plagiarists don't. You can always write more unique, beguiling passages that attract the type of clients you want. If you've done it once, you've got the intelligence and creativity to do it again. Odds are, your copycats will continue to be unoriginal and opportunistic, rounding up the back of the pack while looking to people like you to try to understand what creates success. They're simply not real threats. Of the two of you, you're the one with the upper hand.
Avery Moore: High-End Escort, Traveling Companion