Asking for References is Only Step 1…
Hopefully you ask for references before you see a client. This practice is fairly common among escorts, and for some reason less so among pro-Dommes. Another field of sex work that it SHOULD be common in is modeling or porn. It's easy to tell who a producer or photographer has worked with, because their faces will be all over their portfolio. If you're not sure, ask them! You probably won't be the first, and it shouldn't come as a surprise to them. In fact, many of them will offer a list of references on their website.
Here's the important part. CHECK THEM.
It's easy. Shoot the reference a quick email, phone call, text, tweet, whatever you have to get in contact with them. Here's a sample message:
"Hi, I'm Lauren. I saw you worked with x and just wanted to know how your experience was? Thanks!"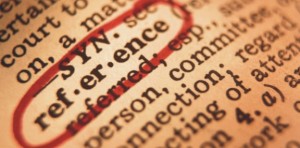 Send out a couple of those to people whose work you like and respect. And you'll not only get some ins and respect from other people in the industry, but you'll get a good idea of what it's like to work with or session with that person. Even if it's something as simple as "he's great, but always 20 minutes late" then you won't be stressed when you're waiting. The more information you have, the better of a position you'll be in.
Don't worry about bothering anyone or taking up their time. The worst they can do is not respond. And it could save you from harmful situations. This industry can be surprisingly small, and reputations are built or hurt very quickly.
It's sad, but there are people who will want to work with you who will hurt you. Some of them don't care about safety precautions. Some of them will take advantage of you, especially if you're new. And some of them are just fucking assholes. You don't HAVE to go through any of that. There is no prescribed rite-of-whore-passage regarding bad clients or shady producers. Checking references may create a few moments of social awkwardness, but it can help avoid a much more harmful situation.
Besides – I think we need to create a culture where sex workers watch out for one another. I think that aspect of the community is deeply important. None of the people I've worked with have minded giving references, on either side of the equation. And public interactions on the internet don't count. Check your references privately and personally. You'll get a more accurate picture.
References don't always spell doom either. It's much more exciting going to work when you know it's going to be pleasant and fun.
References are not a foolproof system for a lot of reasons. But if you talk to people you trust, at least trust professionally, you can generally get a lot of good information. And more information gives you more control over just about any situation.
 Lauren Kiley: Webcam Girl, Fetish Performer, Fetish Clip Producer, Activist, Dirty Girl Next Door.