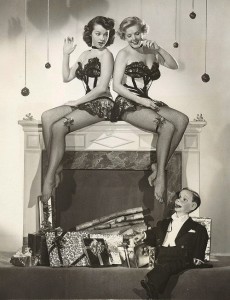 The other day, I had a noon duo scheduled with a regular of mine. My duo partner, Amy, had never seen him before, but we have great chemistry and I knew he'd love her. I curled my hair, put on roughly seventeen pounds of makeup, and shimmied into garters, stockings, and heels. I made the bed, put on some music, set out condoms, and lit candles. Then, I waited. And at 11:48, Amy came flying into my incall studio in a panic. "Oh, my god! How do you work if you're on your period? I'm on day 4, and I don't know what to dooooo!" Now. We scheduled the duo three days prior, so when I asked if she was available, she already knew that The Shining was happening in her no-no bits. She had three days to ask for advice, or use Mr. Google to figure out her shit, but she didn't. She waited until ten minutes before the client arrived to make her crisis my problem. Fortunately, I'm a boy scout when it comes to being prepared, and I fixed her up with some makeup sponges while briefing her on our client. Then I let her borrow some scissors to trim her bikini area. Then I let her use my deodorant and some hair product. Then I lent her something to wear, because she didn't bring any lingerie. Then I stashed her stuff in the closet while she threw on some makeup before he arrived. Fortunately, I knew to be totally prepared before she arrived, because I have come to expect that my last ten minutes before any appointment we take together will be spent managing her crises du jour. And I do it without complaining, because
a) she's pretty awesome in session
b) I genuinely like her as a person, and my clients like us together
c) I consider it a kind of repayment of a karmic debt for all the times I used to be a shitty, shitty trainwreck of a duo partner myself.
But it doesn't have to be this way. Your duo partner is a source of extra income, access to different clients, and can even offer emotional support and sometimes mentor-ship. You owe it to each other to show basic courtesy and professionalism.
Let her know what to expect
If you've seen the client before, give her a quick rundown on what to expect. He uses an unnecessary amount of tongue when kissing. He loves giving head. He always tries to milk extra time and needs to be shoved out the door. He absolutely loves it when you laugh at his jokes. It's courteous to share as much as you can about him, so that she feels as prepared as you are, and not like a third wheel trying to catch up. Likewise, if you only show up to work after half a bottle of wine, or smoking a bowl, or whatever, let your partner know. She may not mind if she knows to expect a tipsy/stoned you, but she deserves to have that information ahead of time, especially if she's sharing her clients with you and needs to know which ones you would be a good match for. Lastly, check in with each other about how bisexual you each actually are, and how gay you're willing to be for pay. If you are cool with making out, but not muff diving, make it clear before your client begs to watch you go down on each other.
Have her back
If you take ten minutes to discuss your boundaries ahead of time, you'll spare yourselves awkward negotiations in-session. Your client may throat fuck you every time, but if you know she's got a touchy gag reflex, you can make sure you're the one doing the oral, and she can be the one to do the actual sexing. Help her stay in her comfort zone, and she'll help you stay in yours.
Be on time
And know what that means. When you agree to a session time, ask what time she'd like you there. If you have a noon booking together, your partner may be cool with you breezing in at 11:55, or she may want help setting up, and be grumbling from 11:30 on about how you're not pulling your weight. Also, leave yourself a cushion of time to help clean up after. If you are hosting the session in your incall, make sure you've got enough time that your partner can shower afterward so she isn't thrown back into her day freshly-shagged. If you're a guest at your partner's incall, ask if you can help strip and make the bed, replace candles, or whatever else needs done.
And speaking of incalls…
If your partner hosts your duos at her place, and provides all the supplies, toys, and atmosphere, show a little consideration from time to time. You don't ever have to buy candles, condoms, massage oil, gloves, wine, bottled water, chocolate, sheets, towels, incense, or pay rent. If you duo regularly under those circumstances, take her to lunch or out for a mani pedi to say thanks. If you duo only once, or once in awhile, a Starbucks card, a couple of fancy chocolates, or a bottle of wine are all nice gestures. It also might be more appropriate just to buy a couple of boxes of her favorite brand of condoms as a way of acknowledging her hospitality. A small gesture goes a long way in showing your duo partner that you value your relationship with her, and can lead to her sharing more business with you in the future. If you're the one hosting, and want more of a contribution from your duo partner, it's fair to ask a per-session fee if you're supplying everything. Keep in mind when choosing your fee, though, that it's bad form to ask a space-use fee and expect help preparing and cleaning. If you paid for a hotel room, it's 100% legit to take the cost of the room off the top before splitting the donation, just make sure to mention it to her upfront.
Respect her privacy
This should go without saying, but unfortunately it doesn't. Make damn sure you're using her stage name, not her legal name, ever. Don't tell your clients jack shit about her. Don't bring up her kids, her hometown, or even her hobbies if she doesn't bring them up with him first. And don't talk to other girls about her, either. If she wants to share something about herself, she can. Stick to your own stories, and know that if you talk shit about her to other
people, it will get back to her eventually, and you will come out of it looking like a supreme asshole–and not just to your partner, either. If you can't respect her privacy, clients will be reluctant to trust you with theirs, and if you're a gossip behind her back, no other girls will want to work with you. Say she's beautiful, charming, brilliant, a great kisser–and then shut up.
Beatrice Darling: GFE Escort, Traveling Companion
You can also follow Beatrice on Twitter @missobdurate