Traveling isn't easy when you're escorting. It can take a physical toll, worse it can take an emotional toll. Being away from home and all your creature comforts is harder then you may think, especially if you travel for more then a few days at a time. The last thing you want is to be hassled by the front desk or hotel management for being a hooker. Here are some tips on ways to keep under the radar when working out of a hotel on tour.
1. Steal towels from the maids cart: You're going to need extra towels, hotels are getting stingier with them all the time. Plus sometime clients hog and use up all your towels. You really don't want to be calling the maid every day or even several times a day asking for extra towels. Thats a giant red flag and will get you pegged as a hooker straight off the bat. If you see the maids cart (and how can you miss it) causally and with out being noticed take a handful of towels back to your room and stow them in your closet. Put out one fresh towel for each client, don't give them the option to use up all your towels.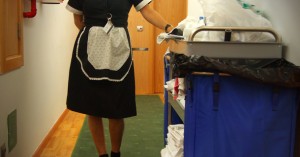 2. If you need to ask the maid for towels, TIP HER: Sometimes you need towels and you just cant find that maids cart to nick them from (FYI: look on other floors too) You have no choice but to call housekeeping and ask for fresh towels. When the maid comes to your door with them, tip her! Hand her five bucks say thank you, be nice to her and smile. She will be more then happy to give you the towels and be more likely to just turn a blind eye as to why a single female traveler needs all these goddamn towels. She may even ask you in the hall next time she sees you if you need any towels or anything for your room. Win her over with cash.
3. Take out your own trash: The last thing you want to do is bring unneeded or unwanted attention to yourself with a trash can full if condom wrappers.  Take out your own trash. Usually theres a trash can somewhere by the ice machine. Scope it out so you know where it is and take out your own trash. The less suspicion on you the better
4. Scope out the alternative entrances:  Tell your clients how to get to your room without going by the front desk. You would think this was a no brainer but its not. Trust me they don't wanna go by the front desk anyways so give them the alternative route. If there is no alternative route available, tell your clients how to directly walk to the elevators so they don't have to ask anyone for directions. Sometimes the elevators are hidden and its better when they can walk though the lobby like they know where they are going.
5. Do not register your hotel room with your hooker number: Hotels have taken to using the Google if they are suspicious of you. Some hotels just do it as a mater of course on all single female guests. Do not register/rent your room with your working number, use your personal cell number or a google voice number you have reserved just for hotel rentals. You don't want a nosy, snoopy manager to google your number and see your 100 ads for escorting. That will only get you tossed out, extorted for free service if the guy is a super creep, or worse they will call the cops and try to get you arrested. (FYI never talk to the cops)
6. Always tip housekeeping: This also would seems like a no brainer but yet it's not. Tip your maids and tip them well. If you have your room made up every day, tip them every day. If you're like me and rarely take advantage of maid service, then tip them at the end of your stay even if you think they didn't do much. They did do something, they didn't rat you out to management and some hotels offer bounties on that kinda thing. The maids will always know whats what in a hotel. They see who comes and goes, they see you opening your door to that weird overweight guy who looks nervous and out of place. They are the eyes and ears of the place, they know you're working out of that room so buy their silence with cold hard cash.  Don't get greedy and forget to tip your maids. Its the cost of doing business and Its worth every penny you spend.
Jenny DeMilo: Dominatrix, GFE Escort, Fetish Clip Producer, Phone Sex Operator and Hypno-Domme.