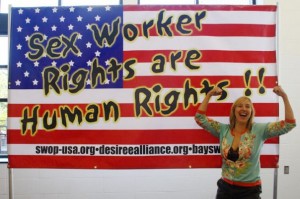 Last Thursday marked the passing of one of the original Fairy Whore Mothers for this generation of hookers. Robyn Few was a sex worker and an activist for years, and was instrumental in founding both Sex Workers Outreach Project and the International Day to End Violence Against Sex Workers (December 17). While I did not know her well, and though her death was imminent and expected after a long struggle with cancer, her death deeply shook me up. I only met Robyn a handful of times, and admittedly did not know her at the best time of her life. I've been struggling to find a way to describe the impact she had on my life despite the brief personal interactions we actually had. She was closer to people that I am close to. But much of my work is a continuation of hers, and she was the matriarch of our sex work activist family. With all the complications and dysfunction that could possibly entail.
The first time I met her I was still fairly new to sex work activism, and she greeted me like she did so many of us. With a solo cup full of joints extended in offering. We were surrounded by other sex workers and sex work activists, and Robyn was full of nothing but joy and hope for most of that weekend. During one particularly memorable conversation I asked her advice about dealing with difficulties in activism, and specifically difficulties in working with other sex workers. Her response was "those who can, must." I was extremely frustrated at the time, because what I wanted was someone to hold my hand and give me a checklist of things to do to fix my city, and subsequently the world. But her words stuck with me, and I revisited them later with her. I don't remember her exact phrasing, which is probably related to the solo cup filled with joints, but it was something along the lines of that those of us who have something to give, must help to the capacity that we are able. And we also need to recognize when we just can't give or help anymore. But it is a philosophy that has stuck with me. It's part of what drives me every day to do hours of unpaid labor. Because I can. And because it needs to be done. And because many of those who would benefit most cannot do it for a myriad of reasons.
We live complicated lives, and everyone leaves a complex legacy. Too often sex workers fade into a long list of dead hookers, another name that we now read on December 17. Robyn helped build the foundations for a community of sex workers and activists for sex workers rights that lives on past her own lifetime. And by striving to make sure that sex workers lives were valued instead of erased, that we could turn to each other for help and support, and that the institutional harms done against us every goddamn day might be eradicated, or at least improved, she left a legacy that will not be forgotten. And she inspired a new generation of hookers and activists that will keep on fighting. I cannot think of a better way to be remembered.
Lauren Kiley: Webcam Girl, Fetish Performer, Fetish Clip Producer, Former Escort, Activist, Dirty Girl Next Door.